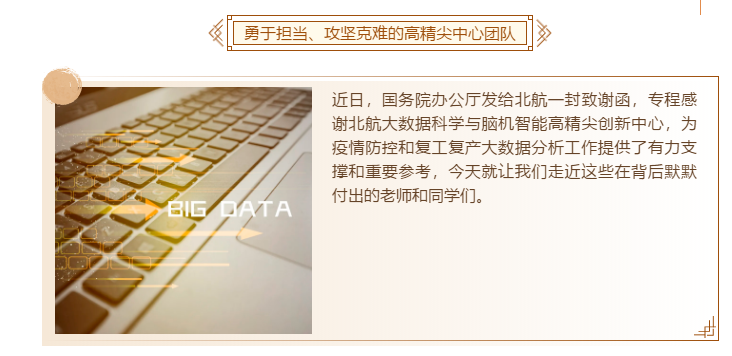 The novel coronavirus pneumonia prevention and control work is the key directive spirit of Xi Jinping general secretary and the requirements of the school Party committee. In order to implement the professional advantages, we actively use the big data and other technical means to support the analysis of epidemic prevention and control and resumption of work.
The emergency big data joint team composed of researcher Li Daqing of our college and Professor Li Jianxin of Beihang University of computer science assisted the E-government Office of the general office of the State Council to carry out the analysis of big data related to epidemic situation research and judgment, which provided strong support for epidemic prevention and control and big data analysis of returning to work and production, and achieved remarkable results. First, we carried out studies on epidemic prediction, prevention and control policies and material support at home and abroad in a timely manner, and formed a number of valuable analysis reports for the reference of leading comrades. Two, we will develop the first nationwide epidemic map service system and epidemic situation assessment system for Hubei Province, and incorporate the national "Internet plus regulation" system to provide epidemic surveillance and data information services.
On March 31, the general office of the State Council pointed out in a letter to Beihang that the team has the courage to take on the responsibilities, overcome difficulties, give full play to its professional and technical advantages, and provided strong support for the epidemic prevention and control and the big data analysis work of returning to work and production. I sincerely thank you for this.
Researcher Li Daqing believes that combining with the major national needs, studying the failure rules and flexible management of complex systems is an effective way to deal with future risks and improve national security. The team will continue to deepen the research and improve the ability to solve practical problems.